Hello Friends, on 21st March 2016, I was discussing Growth Hacking and SEO with my friend and #SEOTalk (a weekly twitter chat on Monday, 8.30 pm IST / 3.00 pm GMT) host, Malhar Barai
Here is a transcript of Q&A on Growth Hacking and SEO discussed during the chat.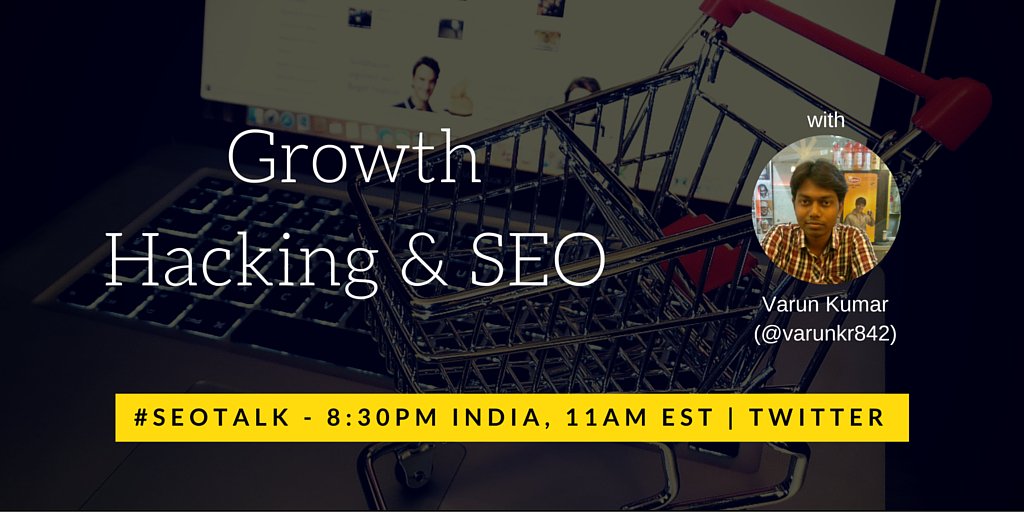 Growth Hacking and SEO
Q1. What is Growth Hacking? And can it be applied to SEO.
A1 #GrowthHacking a/c to @aginnt, one whose passion & focus is pushing a
metric through use of a testable & scalable methodology #SEOtalk
A1b #GrowthHacking is all about implementing data backed marketing strategies
for Growth. This can be applied to SEO. #SEOtalk
A1c For #SEO, off page optimization is the best place where we can try
#GrowthHacking but never ever indulge in grey/black hat SEO #SEOtalk
Q2. What are some growth hacking strategies for SEO.
A2 #GrowthHacking activities for #SEO can't be done in silos, it has to be aided by
#contentmarketing & #smm #SEOtalk
A2b Getting quality Backlinks, ranking for certain keywords and domain authority
is the main goal. #SEOtalk
A2c Guest blogging is the best way to get quality Backlinks, Joel from @buffer did
150+ guest blog in 9-month #SEOtalk
A2d long tail keywords are key to get top SERP ranking in contested market, All of
this going to affect domain authority too #SEOtalk
Q3. Are there some tools to help SEO growth hacking?

A3 for long tail keyword research @semrush, @moz open site Explorer,
keywordtool.io, @epictions, @buzzsumo #SEOtalk
A3b Monitor Backlinks, colibri.io, ahrefs, Google Analytics (yes it works and free
too), kiss metrics #SEOtalk

Q4. How do you know, your SEO growth hacking strategies working or not.

A4 Three metrics 1. Domain Authority 2. Page Authority 3. Quality Backlinks from
Top Domain Authority Will decide, whether your strategies working or not
#SEOtalk
A4b DA & PA, you can check on various tools, any score above 50 on a 1-100 scale
will be quite good #SEOtalk
A4c 1 Backlinks from Top DA site like huff post is more valuable than 5 Backlinks
from low DA sites #SEOtalk
Q5 What are your personal tips on SEO growth hacking.

A5 Always check referring links & build good relationship with them, provide
more data about you to get more Backlinks #SEOtalk
A5b Use #Influencers outreach to get mentions and Backlinks #SEOtalk
Q6. What expert or blog is a great resource for SEO growth hacking.

A6 The original #GrowthHacker @seanellis and his @growthhackers, Growth
Marketer of @uber - @andrewchen #SEOtalk
A6b some great resources from @neilpatel @sujanpatel @kevanlee @moz
@semrush
Bonus Q7. On Twitter's 10th birthday, does twitter has a place in your seo
growth hacking. #Twitterlove.

A7 #Twitter has a special feature, pinned tweet, through which you can get
sustained quality referral traffic #LoveTwitter #SEOtalk
A7b #Twitter is that place, where you can post your #content several times to get
clicks & quality Traffic. Use this wisely #SEOtalk
Over to you :
Which resourced do you find most valuable on Growth Hacking and SEO, do share in comment or on twitter :)
Tweet
Follow @varunkr842

amzn_assoc_ad_type = "
responsive_search_widget
";
amzn_assoc_tracking_id = "
varkumsblo-21
";
amzn_assoc_marketplace = "
amazon
";
amzn_assoc_region = "
IN
";
amzn_assoc_placement = "
";
amzn_assoc_search_type = "
search_widget
";
amzn_assoc_width = "auto";
amzn_assoc_height = "auto";
amzn_assoc_default_search_category = "
";
amzn_assoc_default_search_key = "
";
amzn_assoc_theme = "
light
";
amzn_assoc_bg_color = "
FFFFFF
";